Author & Photo credits: Beth Pollock
The Hotel Galvez in Galveston, Texas was built in 1911 as a luxury hotel when the city was rebuilding after the 1900 hurricane. Known as the Queen of the Gulf, the hotel has seen its share of special guests. It served as temporary White House for staff when Franklin Roosevelt went on an offshore fishing trip in 1938. Eisenhower, Nixon and Lyndon Johnson all stayed before they were president. Duke Ellington, Dean Martin, Jack Benny and Howard Hughes are just a few of the other famous guests.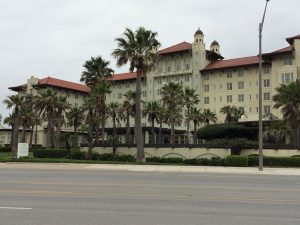 But none of them are as interesting as the hotel's most notorious guest, Audra the Lovelorn Bride.
The ghost of Hotel Galvez
According to Galveston lore, a young woman named Audra was staying in room 501 in the mid-1950s, awaiting her fiancé's return from the sea. A ferocious storm blew up, however, and word came back that the ship had gone down with no survivors. In despair, Audra hung herself – an action made even more tragic when her fiancé arrived in town a few days later.
Melissa Hall, concierge and leader of the Galvez Ghost Tour, told me Audra makes her presence known through slammed doors, lights that turn off and on for no reason, and cold winds that mysteriously blow through the room.
But Audra isn't the only ghost in room 501.
"In the past year, two spirits have been seen during my tours," Hall said. "One was a photo of a soldier, taken while thirty of us were in room 501. I heard a gasp as I was telling Audra's story. When I asked what was wrong, a woman grabbed her husband's phone and showed the photos he had taken of a ghostly figure in uniform!"
I asked Melissa if she'd ever had a personal encounter with a spirit. "My most intense experience was in our Hall of History on the way to my desk," she said. "As I started up the stairs leading to the lobby, I felt like I stepped through a curtain of electricity, so strong it stopped me in my tracks. I asked, "Is anyone here?" I continued to my desk and felt something around my mid-thigh all the way down to my ankle. I looked down to my left where I felt it and saw nothing – then looked to the right side, and again, nothing!" But this ghost was a friendly one: Hall said, "It felt like a child hugging my leg very lovingly."
Melissa is an evocative storyteller. I was relieved to be hearing her tales in bright daylight, but something about them still haunts me. Let's just say I kept the lights on while I wrote this story…
Biking the Seawall
Needing a respite from the supernatural, I headed into the fresh air for the Galveston Seawall. Built after the 1900 hurricane to protect the island from future storms, the seawall is 17 feet high and ten miles long, and can be accessed across the street from the Galvez.
What started as protection has turned into a visitor magnet, with both the seawall and the beach below meriting a visit. While I rented a bike to explore, many others around me were walking or jogging. And whether you're moving on two wheels or by foot, travel couldn't be easier. With the seawall being the longest continuous sidewalk in the country, you'll travel more than ten miles without stopping for traffic.
Of course the beach view was beautiful, but I was especially captivated by the artist benches along the wall. The city had erected plain benches, but non-profit organization Artist Boat thought they could do more with them.
Amanda Rinehart, Education Program Manager at Artist Boat, explained how project SIT (Seawall Interpretive Trail) began. "The first 14 benches were painted by local Galveston students in their after-school program," she said, with students hand-painting ceramic tiles which were then affixed to the benches.
Later, the group made an appeal to the community, with more than 20 individuals, families and groups sponsoring one or more. "Some of the most touching stories have come from families that sponsored a bench in memory of a loved one," added Rinehart. "Local resident Tom Morrisey sponsored a bench in memory of his wife, Heidi, who grew up running the halls of the Hotel Galvez, so he selected a bench right in front of the hotel."
The benches depict the natural and cultural heritage of the island and the Gulf of Mexico, each showing illustrations and a description. One of the benches describes the Balinese room, an illegal nightclub and casino that was popular in the 1940s and 50s. The bench explains that the Texas Rangers tried many times to shut it down, but every time they arrived, the chips and tables disappeared into secret pockets in the walls and floor.
Two of my favourite benches were "Shells on Shore," which depicts the seashells that turn up on the beach; and "Shifting Sands," a celebration of sand dunes. The latter bench is dedicated to Jolene Magee: "She fell in love with the island in 1982," said Rinehart, "and she never left."
Hall of History
Whether or not you're a guest at the Galvez, be sure to visit the Hall of History that displays keepsakes of the city and the hotel.
Christine Hopkins, the hotel's Director of Communications, showed me through the hall and pointed out a vintage key embossed with an image of the Galvez. "This is one of my favourites," she said. "I tried to buy it on Ebay, but I was outbid. I was able to contact the purchaser and he was so gracious. We shared tearful but happy memories of our mothers and our connections to the hotel. He and his mother visited for years, and I always brought my mother for Easter and Mother's Day Brunch before I worked here. He decided to donate the key to our collection in his parents' memory."
In addition to many photos of the hotel in its early years and the celebrities who stayed there, the collection includes a small porcelain Dutch-style shoe with an image of the hotel, and a wedding photo and room confirmation for a honeymoon stay of Mr. & Mrs. Charles Meyer of Queens, New York, in July 1949.
And about those ghosts? Melissa showed me a photo of the Hall of History taken after a wine glass was toppled over and the photos and place cards were scattered around. All this happened when no one was in the hall to move it …
Maybe it's time for another walk along the seawall.
For more information on Texas and to receive a free copy of the Texas Travel Guide and Texas Official Travel Map, visit TravelTexas.com
Notes: The writer saw Galveston as a guest of Texas Tourism, who did not review or approve this story.
Where to stay
Hotel Galvez – Say hi to Audra for me. 2024 Seawall Blvd.
Where to eat
BLVD Seafood – As soon as I saw the peanut butter jalapeno burgers on the menu, I had to try them – and they were great! But the Asian tacos and the crab cakes sounded nearly as good, and I was sorry I didn't make it back to this terrific restaurant. No matter what you eat, order fries on the side. They are exceptional. 2804 Avenue R 1/2. (If you don't know how to put "R 1/2" in your GPS – I didn't either – it's just west of the Hotel Galvez.)
Hotel Galvez – a nice selection of dinner choices in an elegant dining area. I loved the market fish, a red snapper with an avocado pico de gallo topping. If you're here on a Sunday morning, try their legendary brunch.