CARP celebrates National Seniors Day with message to get your flu shot!
A hearty congratulations to the volunteers of the Nova Scotia CARP Chapter, who have championed the necessity of the seniors' high dose flu shot in your province.
http://www.cbc.ca/news/canada/nova-scotia/high-dose-flu-vaccine-1.4666874
That works out to over 7000 doses, which will go a long way to reducing mortality and the burden of influenza among our most vulnerable seniors, for the 2018-2019 flu season. Thank you for making this important seniors' vaccine a priority for your Chapter. This is a great first step toward making the high dose vaccine available to all seniors in Nova Scotia as part of their universal flu vaccination program.  -Anthony Quinn, Director, Community Affairs, CARP
What is The Flu?
Influenza is a respiratory s caused primarily by the influenza A and B viruses.
While most people recover in 7 to 10 days, severe illness can occur. Some groups, including seniors, are at a greater risk of influenza-related complications.
It is estimated that influenza causes approximately 12,200 hospitalizations and 3,500 deaths in Canada each year, the majority of which are over age 65.
FluWatch, Canada's national influenza surveillance system, provides up-to-date information about currently circulating influenza strains. Check in regularly for updates.  H3N2 strain reported this flu season!
Getting vaccinated against influenza each autumn is the best way to help prevent influenza infection.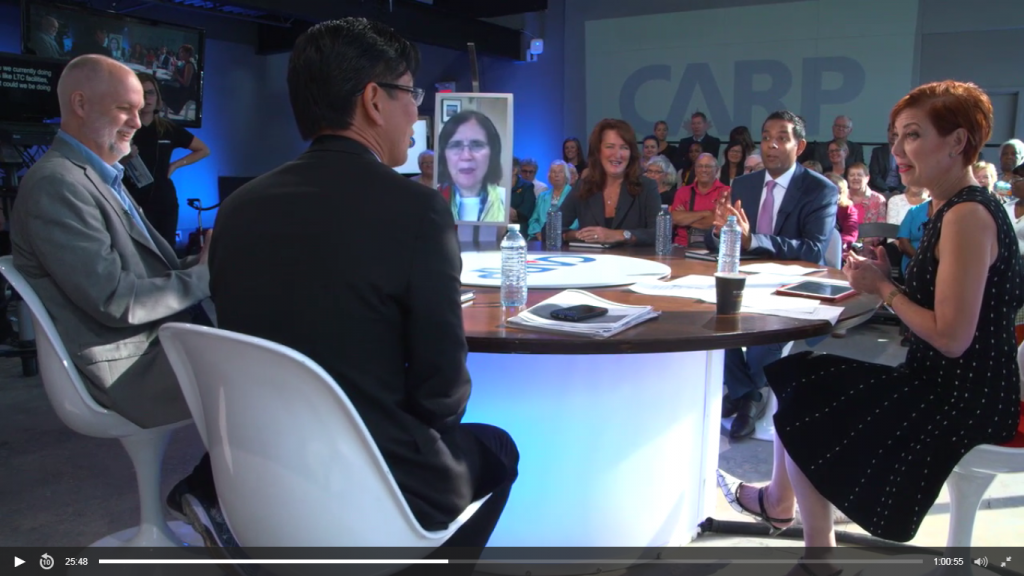 Flu Season 2018/2019
The case for the high-dose flu vaccine for Canadians over age 65
CARP has been following the recent availability of a high-dose flu vaccine in Canada, which has been proven to be 24% more effective for seniors over age 65 than the standard dose vaccine. The same vaccine has been available to seniors in the USA and funded by Medicare for over seven years and proven to be a very effective tool in protecting the health of senior citizens.
You may already know that as we age, there is a natural weakening of the immune system which increases the risk of influenza-related complications and reduces our ability to respond to regular influenza vaccines by approximately 50% in the elderly. We're using a one-size fits all vaccine when we no longer have to.
CARP's members tell us that they don't necessarily believe that a vaccine is 'important' unless it is paid for by the government and that when a vaccine is recommended by their doctor, they are far more likely to protect themselves if the vaccine can be administered without out of pocket costs.
It seems logical that an investment by all Canadian provinces in this high dose flu vaccine would be something that they would want to pursue, both from a financial and moral duty to citizens.
CARP's understanding is that the investment in the higher dose flu shot for Canadians over 65 would decrease costs in the care of seniors who would otherwise get the flu… and the studies show that the number of deaths and debilitating knock-on effects of influenza would also be reduced were the higher dose funded and available.
Depending on the strain in a typical flu season, the number of deaths of seniors over age 65 can be reduced from 2.5% to 36% with the higher dose flu shot. That should be compelling enough to commit the provinces to action. Paying for this shot will save lives and save money.
If not for everyone over age 65 immediately, at least for those in Long Term Care (as Manitoba has just announced), who are most vulnerable to the devastating effects of the flu and whose immune systems are least able to combat it.
The estimates are that vaccinating LTC residents with the higher dose flu shot would lead to 1200 fewer hospitalizations in Ontario alone.
Flu Watch tells us that seniors 65+ account for ~70% of the influenza-related hospitalizations and ~90% of the influenza-related deaths. Investing $3 million in LTC higher dose flu vaccine program would lead to a cost savings/avoidance of up to $8 million annually.
Flu in the News