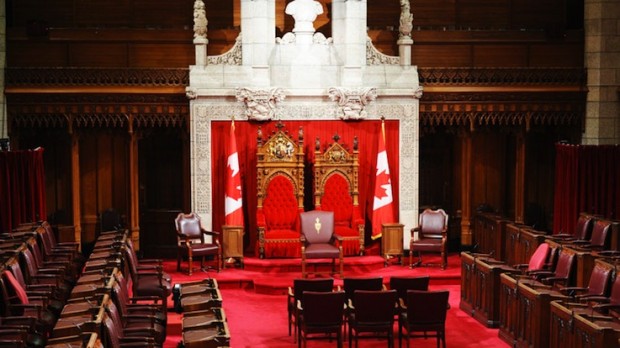 FOR IMMEDIATE RELEASE
October 16, 2013
Toronto, ON: CARP members will welcome the prohibition on fees for paper bills,
expanded no-cost basic banking services and drug safety proposals but be disappointed that their priority concern for CPP enhancement was not addressed in the Throne Speech.
CARP members, polled about what they wanted to see in the Throne Speech, called for CPP enhancement, pharmacare and national funding and standards of home care. The recent pension proposals by the Finance ministers of PEI and Ontario highlight the need to address these concerns for retirement security but their proposals require federal agreement – which has not been forthcoming despite a provincial consensus.
The Throne Speech contained issues of particular concern to older Canadians which will be welcomed:
Drug labelling and safety – plain language labelling, reporting adverse reactions and new patient safety legislation to help identify potentially dangerous drugs, and ensure the quick recall of unsafe drugs;
Working with employers to better accommodate Canadians caring for older family members;
Renew investments in health research to tackle the growing onset of dementia, and related illnesses;
The prohibition on fees for paper bills; and
Expanded no-cost basic banking services.
"A Throne Speech sets the government's agenda and presumably its vision for the future that Canadians can expect. CARP members polled called for leadership in helping Canadians save for retirement, get home care when they need it and access affordable drugs.
The attention to drug labeling and safety and the end to fees for paper bill, expanded no-cost banking services and specific attention to family caregivers and dementia research are all welcome since they are direct responses to issues raised by CARP members.
The remaining consumer friendly changes to the retail environment will provide some short term relief.
However, this is a missed opportunity to set the country's sights on the longer term, structural changes that are needed to improve our quality of life as we age- the most important of which is our financial security in retirement," said Susan Eng, VP, Advocacy for CARP
In an open letter sent to Finance Minister Flaherty, CARP urged him to accept the increase to the CPP proposed by Prince Edward Island Finance Minister Wes Sheridan. The Government could have made this commitment in the Throne Speech without further consultation since there has been thorough public discourse in the three years since the federal and provincial finance ministers first committed to a modest CPP enhancement in PEI in 2010. There is now sufficient agreement among the provinces to amend the CPP; all that is required is federal consent.
PEI Finance Minister Wes Sheridan released his proposal for a modest CPP enhancement which would increase benefits and extend coverage to more middle income Canadians.  With Ontario and Quebec signaling their support, there is enough provincial support to permit an amendment to the CPP. The federal government must also agree so the Throne Speech would have been a good opportunity to signal its commitment to enhancing the CPP – something it has so far not done.
To emphasize Ontario's support for the type of pension savings that the CPP provides, an Ontario Pension Plan was reported today as a proposal for Ontario to go it alone.
"It has been three years since the finance ministers acknowledged that Canadians were not savings enough for retirement and that the existing vehicles were inadequate. Most important, they acknowledged that government had a role to play. Think tanks and pension experts have had enough time to line up behind CARP's call to enhance the CPP. There is no reason to delay this any longer. The Throne Speech would have been a good opportunity for the federal government to commit to making the change necessary to help Canadians secure their retirement savings," added Eng.
CARP Pre-Throne Speech Poll: http://www.carp.ca/wp-content/uploads/2013/10/Pre-Throne-Speech-Poll-Report1.pdf
Open letter to James Flaherty: http://www.carp.ca/wp-content/uploads/2013/10/CARP-Open-Letter-to-Minister-Flaherty-CPP-Enhancement-Oct2013.pdf
PEI Finance minister's proposal: http://www.carp.ca/2013/10/04/proposed-changes-to-cpp-spur-momentum-for-pension-reform/
CARP is a national, non-partisan, non-profit organization committed to advocating for a New Vision of Aging for Canada, social change that will bring financial security, equitable access to health care and freedom from discrimination. CARP seeks to ensure that the marketplace serves the needs and expectations of our generation and provides value-added benefits, products and services to our members. Through our network of chapters across Canada, CARP is dedicated to building a sense of community and shared values among our members in support of CARP's mission.
For further information, please contact:
Sarah Park   416.607.2471
Media Relations, Policy Researcher and Coordinator
[email protected]
Michael Nicin   416.607.2479
Director of Policy
[email protected]