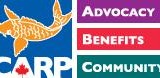 FOR IMMEDIATE RELEASE
November 1, 2013
Toronto, ON: CARP members will welcome the fresh step taken by the provincial finance ministers to move ahead on CPP enhancement to improve the retirement future for Canadians.
After their meeting in Toronto, Provincial and Territorial Ministers of Finance issued a news release stating that they:
"…[found] common ground, including agreement on objectives that would underlie options to enhance the CPP. Ministers agree that any CPP enhancement should:
Be responsible and fully funded and focus on today's workers;
Moderate the short-term effects on businesses, families, and the economy;
Improve the future retirement incomes of middle-income earners; and
Protect lower-income workers. "
And that further discussion to help improve the retirement income system must include options for CPP enhancement.
CARP members have fully supported increases to the CPP despite the fact that any improvements can only help future generations. PEI Finance Minister, Wes Sheridan, was given a rousing welcome when he headlined a Town Hall session at the recent CARP AGM and Chapter Congress, to present his proposal for a modest CPP enhancement  – ending with the message that politicians need to hear from the public that there is wide support for action on CPP enhancement.
CARP issued an open letter to Federal Finance Minister calling on him to support Minister Sheridan's proposal stating: There is now sufficient agreement among the provinces to amend the CPP; all that is required is federal consent. – See more at: http://www.carp.ca/2013/10/03/carp-calls-for-cpp-enhancement-in-throne-speech-open-letter-to-federal-finance-minister-flaherty/#sthash.R55CRLDu.dpuf
"If not now, when? Think tanks, pension experts and now major editorials have lined up with CARP's call to enhance the CPP. They agree that this is the best vehicle to help people save enough for their retirement. There is no reason to delay this any longer.
CARP members will welcome the finance ministers' support for CPP enhancement – even modestly. Let's hope they are able to convince the federal government to finally keep its 3-year old promise to move ahead on this critical improvement to Canada's retirement income system.", said Susan Eng, VP, Advocacy for CARP
The provincial finance ministers' meeting today is one of a series of meetings that could move CPP enhancement forward. The premiers are meeting in mid-November and the crucial federal-provincial [FTP] finance ministers will meet in mid-December.
CARP is a national, non-partisan, non-profit organization committed to advocating for a New Vision of Aging for Canada, social change that will bring financial security, equitable access to health care and freedom from discrimination. CARP seeks to ensure that the marketplace serves the needs and expectations of our generation and provides value-added benefits, products and services to our members. Through our network of chapters across Canada, CARP is dedicated to building a sense of community and shared values among our members in support of CARP's mission.
For further information, please contact:
Sarah Park   416.607.2471
Media Relations, Policy Researcher and Coordinator
[email protected]

Michael Nicin   416.607.2479
Director of Policy
[email protected]