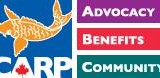 FOR IMMEDIATE RELEASE
October 24, 2013
Toronto, ON: The strongest champion of CPP reform invited Canada's largest advocacy organization to: "Go out and put pressure on us!"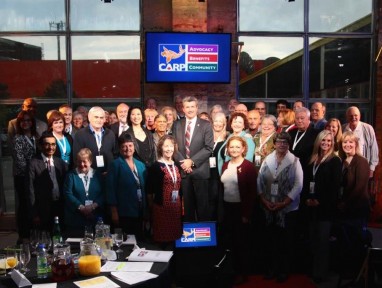 PEI Finance Minister, Wes Sheridan, headlined a Town Hall at the CARP annual meeting and Chapter Congress today ahead of the upcoming meetings of Finance ministers –and well ahead of the FTP meeting in December where CPP enhancement is expected to be on the table.
The CARP leadership of 52 local chapters from Victoria to St John's and points in between needed no convincing that CPP reform is long over due – CARP Polls™ put pension reform and CPP enhancement as the highest priority of CARP members. But in the three years after a modest CPP enhancement was first proposed by the FTP Finance Ministers, there has been no progress.
The Town Hall gave CARP members the chance to hear details of the two pension reform proposals but mostly they wanted to hear what it would take to finally get action on the 3-year old promise. Minister Sheridan didn't disappoint. The bottom line from the frank exchange with the most politically engaged group of Canada's largest advocacy group for older Canadians is there is a need to shore up political will, and by inference the federal government needs to hear from their constituents across the country.
Message received. CARP chapter chairs will take the message back to their respective provinces and encourage their members to pressure their own finance ministers as well as write to Minister Flaherty and Prime Minister Harper.
"If not now, when? Think tanks, pension experts and now major editorials have lined up with CARP's call to enhance the CPP. They agree that this is the best vehicle to help people save enough for their retirement. There is no reason to delay this any longer. Minister Sheridan knew what he was doing – calling on the most politically engaged group on an issue that has been their highest priority – to help better secure our retirement for all Canadians" said Susan Eng, VP, Advocacy for CARP
Recent coverage of CPP enhancement proposals and CARP open letter:
http://www.theglobeandmail.com/commentary/editorials/bigger-cpp-would-be-better/article14939712/
http://www2.macleans.ca/2013/10/22/if-you-want-the-cpp-to-rescue-the-middle-class-the-pei-plan-is-worth-a-look/
http://www.carp.ca/2013/10/04/proposed-changes-to-cpp-spur-momentum-for-pension-reform/
http://www.thestar.com/news/queenspark/2013/10/16/tories_oppose_liberals_ontario_pension_proposal.html
http://www.carp.ca/2013/10/03/carp-calls-for-cpp-enhancement-in-throne-speech-open-letter-to-federal-finance-minister-flaherty/
http://www.carp.ca/2013/10/16/throne-speech-missed-opportunity-to-act-on-retirement-security-carp/
http://www.zoomerradio.ca/news/latest-news/ontario-pension-plan-floated-at-queens-park/
CARP is a national, non-partisan, non-profit organization committed to advocating for a New Vision of Aging for Canada, social change that will bring financial security, equitable access to health care and freedom from discrimination. CARP seeks to ensure that the marketplace serves the needs and expectations of our generation and provides value-added benefits, products and services to our members. Through our network of chapters across Canada, CARP is dedicated to building a sense of community and shared values among our members in support of CARP's mission.
For further information, please contact:
Sarah Park   416.607.2471
Media Relations, Policy Researcher and Coordinator
[email protected]

Michael Nicin   416.607.2479
Director of Policy
[email protected]