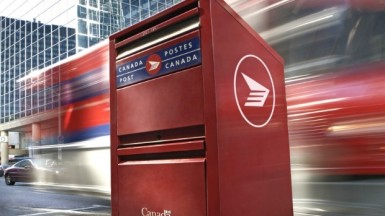 On December 11th 2013, Canada Post announced that it would be phasing out door-to-door delivery of regular mail while also increasing the cost of postage in a major move to try and reduce financial losses.
Canada Post announced this week the 11 communities across Canada where mail will no longer be delivered door-to-door:
Some neighbourhoods in Calgary, Alta. (10,450 addresses)
Fort McMurray, Alta. (8,450 addresses)
Some neighbourhoods in Winnipeg, Man. (12,500 addresses)
Oakville, Ont. (26,400 addresses)
In Ottawa, Ont., neighbourhoods in Kanata (7,900 addresses)
Rosemère, Que. (3,350 addresses)
Lorraine, Que. (2,550 addresses)
Bois-des-Filion, Que. (2,750 addresses)
Charlemagne, Que. (1,300 addresses)
Repentigny, Que. (14,400 addresses)
CARP Raised Concerns with Canada Post
Public outcry has been considerable since the announcement, despite Canada Post assurances to older Canadians and people with mobility challenges that the community mail boxes would be lower and more accessible and they could get a second set of keys for caregivers to pick-up their mail.
CARP publicly raised concerns at the time that the move away from door-to-door delivery would cause serious challenges to older Canadians and Canadians with mobility hindrances that do not have friends and family to assist them on a regular, ongoing basis. For many people affected by the change, these concessions don't go far enough in order to preserve independence and meet mobility challenges.
CARP met with Canada Post CEO Deepak Chopra on January 13, 2014. In addition to concerns about mobility and independence, CARP pointed out that the changes may also increase the risk for potential financial abuse by caregivers or family members. CARP emphasized that the door-to-door mail delivery is essential for many Canadians and can provide added value especially to home-bound individuals, for whom the letter carrier may be the only point of human contact for some days. CARP reinforced the need for Canada Post to find real solutions to the challenges posed by the move away from door-to-door delivery.
Canada Posts Response
In response to CARP advocacy and the public outcry, Canada Post announced that while the move to community mail boxes will proceed, the crown corporation will seek solutions for people with significant mobility challenges, who lack viable alternatives and would face unacceptable hardship. Canada Post will seek input from the various communities that best know the challenges facing people with mobility issues and deploy new solutions before the conversion occurs.
However, it appears that Canada Post intends to proceed with the conversion to community mailboxes rather than find a way to keep the mail carriers or to add other public service duties to the carriers. CARP has already noted, for example, that the US Postal Service runs a program called Carrier Alert that has letter carriers trained to be attuned to particular signs that indicate an accident or illness, monitoring the well-being of elderly and individuals with disabilities who voluntarily enroll in the program. Canadians and CARP members most affected by the postal changes will expect real solutions like this and not just another set of mailbox keys.
Consultations are a step in the right direction, but its unclear at the moment whether the public consultations Canada Post intends to hold will actively look for alternatives to ending home delivery, find workable solutions for people disadvantaged by the change or just stall for time. Canada Post says that it will begin consultations this spring with the goal of having solutions in place by the autumn 2014. CARP's position is that Canada Post should look to other countries and postal experts to find and implement solutions that will directly address challenges to mobility, independence, and security for older Canadians and people with mobility challenges. CARP will continue to monitor and report on this issue.