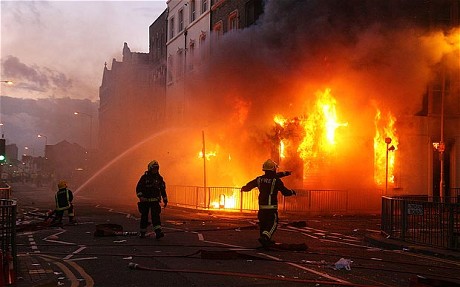 Editor's Note: On January 13th, 2015 CARP wrote the following open letter to all federal and provincial Ministers included in the list below.   One year after the horrific nursing home fire that claimed the lives of 32 people and injured another 15, federal and provincial governments have yet to take the steps required to mandate that care homes built prior to 1997 be rquired to retrofit life-saving sprinkler systems.  Care homes built after 1997 are covered by national building and fire codes and therefore must carry them but this leaves too many seniors exposed.  For more details on this story, please read "Tragedy at L'Isle Verte: One Year Later", published in the December 24th edition of CARP Action Online.
CARP's Open Letter to Provincial and Federal Ministers
January 13, 2015
Dear Ministers,
A year has passed since the fire tragedy at the Résidence du Havre nursing home in L'Isle-Verte, Quebec, which killed 32 people and left 15 others injured on January 23, 2014.
CARP is calling on all provincial, territorial and federal governments to take immediate steps to prevent future fire tragedies as occurred at L'Isle Verte by legislating retrofitting of fire sprinklers in all care homes built before 1997, which are not currently covered by national building and fire codes requirements and to enforce compliance with the national building and fire codes.
The L'Isle Verte fire showed that sprinklers are crucial, even if they are not the only solution. Other building code enhancements and safety measures for existing care homes are also needed, such as strategically placed self-closing doors, fire separation walls and doors, and clear safety plans and regular staff training.
The tragedy at L'Isle Verte, and the deaths and injuries it caused, was largely preventable – as attested to by witness after witness at the Coroner's inquiry and many coroner's inquests in too many other nursing home fires. Properly implemented and executed fire safety, training, and planning together with mandatory fire sprinklers would have saved lives. Fire sprinklers make a tremendous difference in the amount of damage and loss of life that can be caused by fire. According to the Canadian Association of Fire Chiefs (CAFC) residential sprinklers reduce the risk of fire-related deaths and injuries by over 80% compared to homes which do not have sprinklers.
Fires, deaths, and injuries such as occurred in L'Isle Verte are an unfortunately common and largely preventable occurrence in Canadian care homes. Concrete measures must be put into place to save lives. For many, it is too late. Since 1969, over 140 residents of care homes in Canada have died due to fire and many more have been injured and displaced. The common recommendation in the Coroner's inquests that followed many such tragedies has been to ensure sprinkler retrofitting at the centre of a fire safety plan. Indeed, the earlier tragedies and inquest recommendations have led to all nursing homes and other care facilities built since that time to require sprinkler systems and full fire safety plans. The problem remains with facilities built before the new rules came into force and the high cost of retrofitting. Nonetheless, the delay in retrofitting all nursing homes is untenable.
The perversity of maintaining this double standard of care by allowing further delays in retrofitting was shown in high relief by the news photos of the L'Isle Verte aftermath – with the newer part of the complex standing largely undamaged beside the frozen pile of rubble that was the older section in which all the deaths occurred.
Families who have to let their loved ones go into care are entitled to be assured that they will at least be safe from a preventable tragedy from a fire in the facility. CARP is calling on all provincial, territorial and federal governments to act now to:
Legislate to require fire sprinklers in all nursing homes
Legislate to require proper safety and evacuation plans including staff training
Enforce compliance with legislative requirements
CARP is a national, non-partisan, non-profit organization committed to advocating for a New Vision of Aging for Canada, social change that will bring financial security, equitable access to health care and freedom from discrimination. CARP represents 300,000 members and 60 local CARP chapters across the country.
We look forward to your responses and communicating to our members what your governments will do to help prevent future death or injury due to fire at nursing homes in Canada.
Sincerely,
Susan Eng,
VP Advocacy
cc
Honourable Steven Blaney, Minister of Public Safety and Emergency Preparedness (Federal)
Honourable Diana McQueen, Minister of Municipal Affairs (Alberta)
Honourable Terry Lake, Minister of Health (British Columbia)
Honourable Erna Braun, Minister responsible for the Office of the Fire Commissioner (Manitoba)
Honourable Madeleine Dubé , Minister of Health (New Brunswick)
Honourable Steve Kent, Minister of Health and Community Services (Newfoundland & Labrador)
Honourable Leo A. Glavine, Minister of Health and Wellness/ Minister of Seniors (Nova Scotia)
Honourable Robert C. McLeod, Minister of Municipal and Community Affairs/ Minister Responsible for Northwest Territories Housing Corporation (Northwest Territories)
Honourable Roy Green, Deputy Minister of Community and Government Services (Nunavut)
Honourable Dipika Damerla (Associate Minister of Health and Long-Term Care) (Ontario)
Honourable Janice Sherry, Minister of Environment, Labour and Justice and Attorney General (PEI)
Honourable Lise Thériault, Minister of Public Safety (Quebec)
Honourable Dustin Duncan, Minister of Health (Saskatchewan)
Honourable Currie Dixon, Minister of Community Services (Yukon)
For more details on this story, please read "Tragedy at L'Isle Verte: One Year Later", published in the December 24th edition of CARP Action Online.