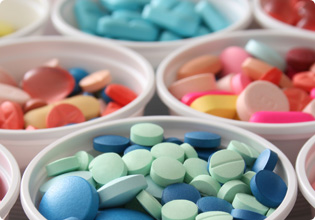 Most developed countries with a universal health care system also provide universal coverage of prescription drugs, except Canada. Instead, Canadian provinces allocate limited public subsidies for prescription drugs, leaving the majority of the costs to be financed out-of-pocket and through private insurance. There is evidence and research suggesting that the status quo of the current system will only continue to incur higher costs and exacerbate unequal access to needed drugs.
A report titled Rethinking Pharmacare in Canada by Steven G. Morgan, Jamie R. Daw and Michael R. Law provides an overview of Canada's pharmacare programs and their performance in relation to other countries with comparative healthcare systems. In Canada the three main approaches used to determine eligibility for drug coverage are either based on income, age, or employer.
British Columbia's income based drug program provides drug coverage to all eligible people. The program requires for the individual to reach their set deductible, which is a percentage of the household's income spent on drugs, after doing so the drug costs would be covered by the public plan. Whereas an age based drug program adopted in Ontario offers comprehensive coverage to residents over 65 years of age, in which low income seniors pay no deductibles and a fixed co-payment of $ 2.00 and all other seniors pay an annual $ 100 deductible along with a $ 6.11 co-payment per prescription. Quebec's employer based program achieves universal access to drugs by making it mandatory for all residents to have some form of a plan, either through their employer or by paying monthly deductibles of $ 16.25 per adult and a 32 % coinsurance rate.
Each model for financing prescription drugs found in Canadian provinces involves multiple private and public payers for medicines and considerable direct costs to patients by way of deductibles, co-payments and coinsurance. The costs borne by patients are known to reduce the use of medicines that might otherwise improve patient health and reduce costs elsewhere in the healthcare system.
In a webinar presentation titled 'Is Canada ready for national pharmacare', Steven Morgan, a professor in the School of Population and Public Health at the University of British Columbia compares Canada to its international counterparts, such as United Kingdom and Netherlands amongst other countries that include access to pharmacare in their universal healthcare system. The countries compared to Canada have all achieved lower costs per capita for prescription drugs while generating greater investment into research and development. If Canada's spending per capita matched that of United Kingdom where all citizens receive public coverage for a wide range of medicines with limited co-payments, it would spend an estimated $ 14 billion less per year and such savings can be reinvested into other areas of healthcare. Instead, Canada's per capita expenditures have substantially increased since 1980's and are the highest of all comparable countries.
Despite the fact that drugs can manage, prevent, and even cure illnesses, prescription drugs used outside of hospitals are excluded from the Canada Health Act and are thus not publicly covered. The patchwork of drug coverage in Canada was not a planned policy decision, the incremental approach to healthcare policy assumed that once hospital and medical care would be covered; eventually prescription drugs, homecare, and other services would follow.
Implementing the pharmacare stage of medicare has proven challenging, due to rising costs of drugs and powerful interests speaking out against it. At the moment, there are many players involved in drug purchasing, adding administrative costs, diminishing purchasing power and creating funding silos that limit the potential for healthcare managers and providers to consider the full benefit and opportunity costs of prescription drugs as an input into the broader healthcare system.
Steven Lewis, an adjunct professor of health policy at Simon Fraser University, in webinar titled Universal Pharmacare is Essential, National Perhaps. Federal, Not So Much proposes that provinces could formally cooperate together to negotiate drug prices, while also developing strategies for introducing and evaluating new drugs and aligning most of their formularies. This would help to ensure that all Canadians have equal access to needed drugs. Provinces would continue to retain responsibility for pharmacare by working in collaboration to drive down costs and share information. This program can be administered without federal government's involvement.
At the same time, Lewis points out that some provinces may be reluctant to participate, due to diverging political priorities and having greater bargaining capacity to get better prices and in turn already having better coverage than others. Some province may be wary of being bound by collective decisions about new drugs and composition of formularies, while other concerns such as fiscal downturns or being pharma research and development hubs would also sway a province not to join. Despite the expressed reluctance of some provinces, keeping pharmacare as part of provincial jurisdiction is believed to be the most hopeful option for future integration.
Support for a universal pharmacare program has been growing amongst policy think tanks and politicians, with an increasing number of proponent's agreeing that a national pharmacare program can help to provide equitable access to drugs for all Canadians and an opportunity to reduce healthcare and out-of-pocket costs associated with drugs.
CARP recognizes the importance of advocating for a universal pharmacare program that ensures that drugs are affordable, accessible, and the system is sustainable. CARP will continue to advocate on this issue to ensure greater access to prescription drugs for all Canadians. The status quo will only incur additional financial and health costs for Canadians.
March 9, 2015
To view the webinar presentations by IRPP
Read "Rethinking Pharmacare in Canada" by the C.D. Howe Institute
Read CARP's Canada Needs Pharmacare