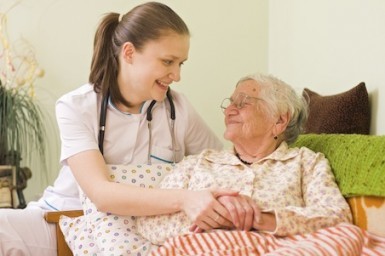 As older Canadians make their way to the polls, many are concerned about whether or not they will be able to continue to live in their own homes as they age. Access to home care is essential so that seniors can remain in their communities and age safely, comfortably, and independently. Unfortunately, home care remains drastically underfunded; many community care agencies struggle to make ends meet, and some seniors spend months, if not years, on wait lists for essential services.
CARP advocates for a holistic, comprehensive continuum of care, which would include coordination between components of the health care system to ensure older Canadians receive seamless, patient-centered care in their homes, in assisted living facilities, and in long-term care facilities as needed. On this page, you can find information about each party's plans for expanding access and providing funding for home care. You can also read more about CARP's vision for a supportive, well-coordinated home care framework.
To see where the parties line up on other CARP issues, click here to read our campaign platform comparison chart.
Conservative Party
To facilitate home care, the Conservatives plan to continue funding home care-related projects through their Health Care Policy Contribution Program, which has previously funded such projects with partners such as the Canadian Home Care Association and the Association of Community Care Colleges. The party also introduced a Home Accessibility Tax Credit as part of their 2015 federal budget, which provides up to $1,500 in tax deductions for costs related to wheelchair ramps, walk-in bathtubs, grab bars, and similar renovations.
Liberal Party
The Liberal Party has committed to negotiating a new national health accord with provincial and territorial governments. The specific details of the accord would emerge during the consultation process, but the Liberals plan to include an immediate investment of $3 billion over the course of its first four years in office to improve home care and related services. This funding would provide financial support for in-home caregivers, family care, and palliative care.
New Democratic Party
Leader Thomas Mulcair has promised a $1.8 billion investment in seniors' health care if the New Democratic Party forms government. The funding would expand home care for an estimated 41,000 seniors, create 5,000 new beds in nursing homes, and improve palliative care services. The plan was constructed with the ultimate goal of relieving pressure on hospitals and emergency rooms, and generating savings throughout the health care system by providing care at home.
Green Party
The Green Party advocates a National Seniors Strategy and National Home Care Plan, to be created in consultation with provincial, municipal, and indigenous governments. Part of a comprehensive approach to providing care for seniors, the plan would give aging couples the support they need to continue to live together, provide economic allowances such as tax rebates, and expand assisted living services to support those with chronic care needs. The party has also pledged to expand tax credits and workplace protections for caregivers to ensure that providing home care is not prohibitively expensive.
Get Involved