Increasing poverty among seniors has turned a spotlight on the issue of financial security for retired Canadians.
Roughly half of Canadians aged 55 to 64 without a workplace pension plan have less than $ 3,000 saved for retirement; this won't even see them through their first year. This grim news is highlighted in the new Broadbent Institute report 'An Analysis of the Economic Circumstances of Canadian Seniors'.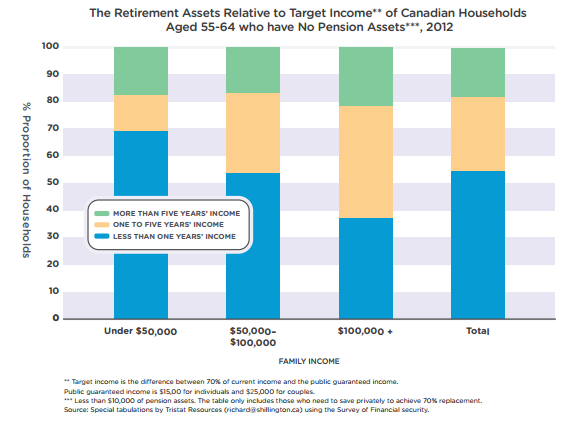 The study found nearly half (47 per cent) of Canadians aged 55 to 64 who are without an employer pension plan. Among them, those who earn $50,000 to $100,000 a year have saved up an average of $21,000, which is roughly half the savings needed to supplement retirement needs. Those earning $25,000 to $ 50,000 and without a workplace pension plan, have saved up a meager $ 250 on average towards their retirement. Fewer than one in five people age 55 who don't have an employer pension have enough to live in retirement for five years or more.
While there is widespread agreement on the problem, different solutions have been proposed. The Broadbent Institute's study urges public pensions such as the CPP to boost their revenue, but in the short term, it says boosting the GIS could help with getting seniors out of poverty more quickly.
CARP supports increases to the Guaranteed Income Supplement paid to the poorest Canadians and the federal government's budget commitment to increase the GIS by almost $1,000 for our poorest seniors is welcome news. But more needs to be done. While financial aid to our poorest seniors is a necessary band-aid, stronger increases in CPP coverage are critical.
The federal and provincial/territorial Finance Ministers met in December of 2015 and discussed the possibility of an enhancement to the CPP, but no decisions were made.  The Federal budget repeated the commitment to federal/provincial consultations – by the end of 2017.
Ontario is preparing a provincial retirement pension plan to supplement the federal CPP. While CARP is a strong advocate of increased universal pensions, our members strongly prefer enhancements to CPP to a made-in-Ontario plan.  CARP members want Canadians in all provinces to have secure retirements and there is real concern about Ontario unnecessarily duplicating an existing bureaucracy.
CARP has long called for a comprehensive approach to ending poverty in old age and welcomed Prime Minister Justin Trudeau's recent announcement of the roll back of OAS eligibility to 65, delivering on a promise that was made during CARP's Annual General Meeting in 2014. Thousands of Canadians joined CARP's Feet to the Fire Campaign ahead of the federal budget.
With the budget announcement of the GIS increase, we've now seen two key campaign promises kept:
Reversing the eligibility age of Old Age Security (OAS) to 65
Boosting the Guaranteed Income Supplement (GIS) by 10% to provide almost $1000/year more per  GIS recipient – aimed especially at helping low-income seniors who live alone;
We will continue to hold the government's Feet to the Fire until all promises are met, including the following key items:
Setting a new seniors' price index to ensure that OAS and GIS benefits keep up with rising costs;
Enhancing the CPP;
Extending the flexibility of compassionate care leave for caregivers;
Investing $3 billion in home care.
With a majority government and promises to work cooperatively with provincial governments and opposition parties, PM Trudeau has received strong support with which to fulfill his promises to Canadians. CARP members expect all levels of government to come together to improve the livelihood of all Canadians in preparation and during retirement.