Information posted January 28, 2013
Our January Community meetings in both Milton and Burlington were very informative for seniors with two excellent presentations.
Our first speaker was Constable Wendy Moraghan who is the Elder Services Coordinator with Halton Regional Police.
Constable Moraghan  gave a very interesting and interactive talk about the numerous frauds and scams that target seniors. With her experience in this particular area she gave many examples of the wide variety of frauds and scams that are happening throughout Halton Region. Seniors are seen by fraudsters and scammers as easy targets and sadly many seniors are taken in by them. We highly recommend that everyone be aware of this serious issue and above all take the advice she had to give.
Rather that quoting from Constable Moraghan's presentation we have made it available so that you can read it again, please CLICK HERE.
Our second speaker was Michael Kee who is a tax expert with S&B Partners and an allied professional of Solutions for Aging.
Michael spoke about income taxes and the many programs and credits that are available to reduce your tax burden. In his experience there are ten things that everyone needs to know. Understanding these ten points and preparing your tax return with this knowledge and taking full advantage of the credits and programs available will ensure your taxes are minimized.
Again rather than repeat the information he presented we have made his presentation available. Please CLICK HERE.
We would like to thank our sponsors who play a key role in supporting our meetings. In January we welcomed the following:
Disability Tax Solutions. Disability Tax Solutions provide expert understanding and solutions to help improve the financial landscape of individuals and families dealing with a disability. Their goal is to educate people on the resources available for themselves or a loved one with a disability.
Solutions for Aging. With their help you can plan today, prepare for tomorrow and protect your family after you are gone. Advanced planning eases your worry and the burden for your family. Make the most important decisions while they are yours to make.
ListenUp Canada were available to discuss any hearing related issues.
Constable Wendy Moraghan also had lots of information and advice on senior fraud and how to protect yourself from becoming a victim.
Our sponsors had tables with lots of information and advice and as you will see below  many people took advantage of the time available to chat with them.
In addition to supporting our meeting our sponsors also very generously donated prizes for the draw that we held at the end of both the Milton and Burlington meetings.
Prize winners at Milton are seen below…..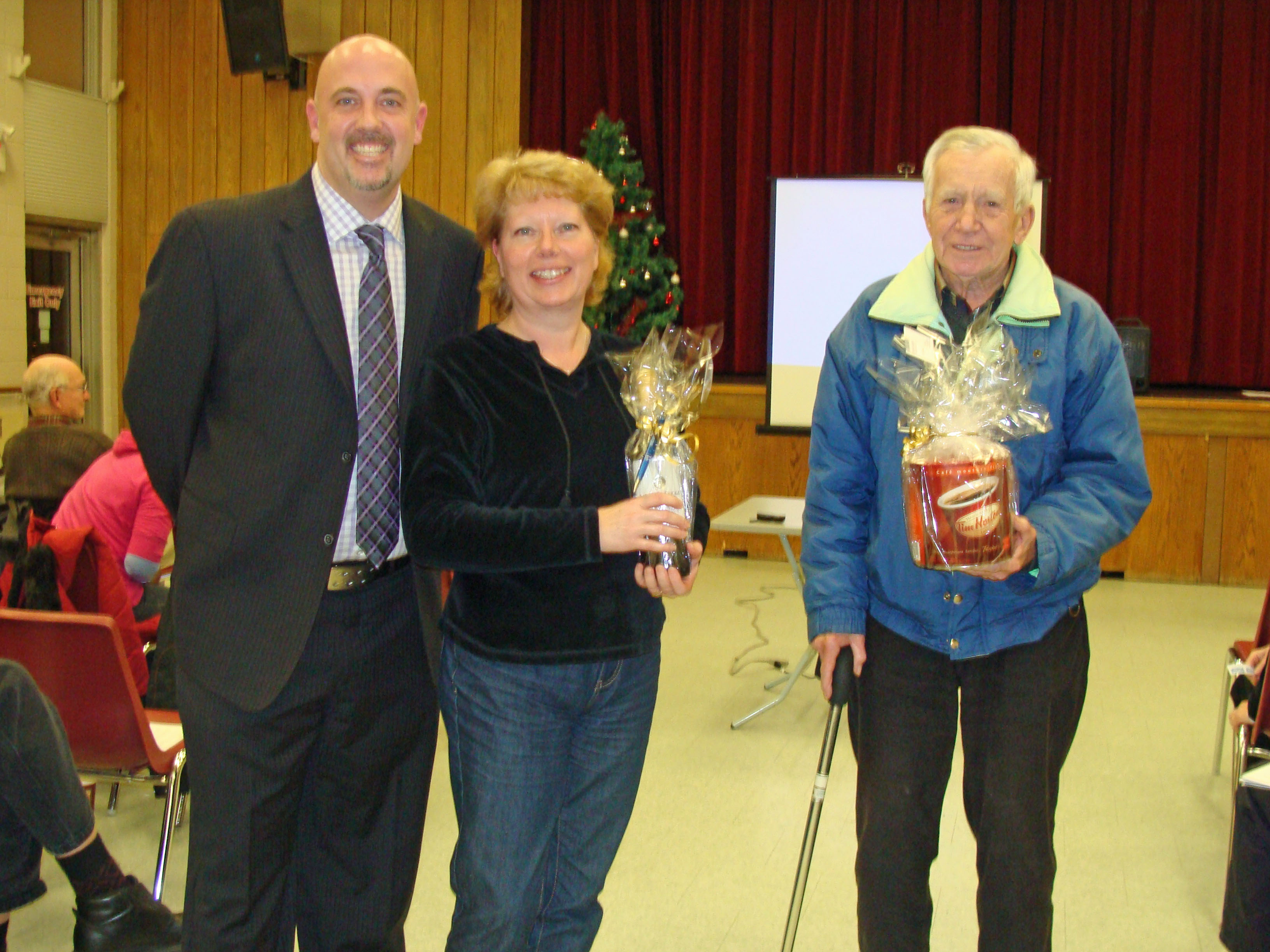 …….and prize winners at Burlington:
Our meetings conclude with a 50/50 draw the proceeds of which help to cover our costs. At Milton this draw was worth $48 and the lucky winner is seen below with Constable Moraghan.
At Burlington in addition to the 50/50 draw worth $91 ListenUp Canada donated two alarm clocks. The lucky winners are seen below.
Judging by the lively discussion during the presentations everyone in attendance found this to be a worthwhile meeting and we would like to thank everyone for coming, especially for braving the miserable weather at Burlington, and making the meetings a success.