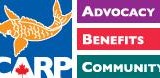 FOR IMMEDIATE RELEASE
December 13, 2013
Toronto, ON: CARP welcomes Quebec's decision to add its voice to the growing consensus to increase CPP – breaking the political log jam in fulfilling the CPP amending formula. This move leaves the federal government as the major holdout. And CARP members have already told them that action on CPP is a ballot box issue and will be watching closely what happens at Meech Lake on December 16th.
The CPP amending formula requires the agreement of two-thirds of the provinces with two-thirds of the Canadian population plus the federal government. The decision to change the CPP is normally taken at the semi-annual meeting of the federal, territorial, provincial finance ministers – like the upcoming meeting in Meech Lake on Monday December 16th.
Quebec has 24% of the Canadian population and its participation means that the amending formula is nearly fulfilled, all that is needed is the concurrence of two of the provinces that have yet to signify their agreement – BC, Alberta, New Brunswick, Saskatchewan and Nova Scotia. And of course, the federal government.
Quebec Labour Minister Agnès Maltais is reported as saying:
"Quebec has been considering supplementary payments for older retirees under the Québec Pension Plan, but it would require higher contributions. … to keep Quebec's business environment competitive, Canada Pension Plan premiums also have to go up. Ontario and other provinces are attempting to get Ottawa to boost contributions to the CPP, and Quebec will join them to press the demand at the upcoming federal-provincial meeting of finance ministers."
[QUOTE]
"With Quebec on board, the focus is now squarely on Ottawa. The amending formula – requiring the two-thirds provincial consensus along with the federal government – sets a high bar-  to ensure the stability of the CPP – not to provide a veto of a wide spread consensus.
"There is broad voter support and business leaders, unions and pension experts agree. So now the decision is up to the federal finance minister to keep the promise he made willingly in June 2010 or again refuse to act, as he has done for three years now.
"CARP members have clearly stated that CPP increase is a ballot issue. Our chapter chairs in all the provinces, including in the most recalcitrant provinces, have made a final personal pitch – not for themselves but for their children and grandchildren. The appeal is now to the federal government.
"This is their chance to improve retirement security for a generation. Whatever happens on Monday, we expect that it will take place in the full glare of public scrutiny", said Susan Eng, VP, Advocacy for CARP
In the run up to decision day [December 16] on the CPP increase, CARP released its Open Call to Act signed by CARP Chapter Chairs from BC, Alberta, Quebec, and Nova Scotia – provinces which, up to today, had yet to signify their agreement to increase the CPP. Following a meeting at Queen's Park Wednesday, the Chapter Chairs returned to their home provinces and contacted their respective provincial finance ministers, bolstered by the support of the Ontario government leadership.
The CARP Chapter Chair delegation met with Ontario Premier Kathleen Wynne, Finance Minister Charles Sousa, and Minister for Seniors Mario Sergio at Queen's Park on December 11, 2013, urging Ontario's leaders, who are on side with a CPP increase, to apply pressure on their colleagues to come out of the Finance Ministers' meeting on Monday with a firm agreement to increase the CPP.
PEI Finance Minister Wes Sheridan brought his CPP proposal to the CARP AGM and Chapter Congress on October 24, 2013 and got a rousing welcome from the chapter chairs attending from across the country.
In a recent CARP Poll™, 71% of CARP members say the government doesn't deserve power if CPP is not expanded.
In a Forum poll of all Canadians, the majority of Canadians want a CPP increase. Boomers (55 to 64) are especially likely to agree the twenty five percent target benefit is "too little" (60%)
CARP has 57 local chapters across the country, and one in each province. They are calling on their respective Finance Ministers, especially in the recalcitrant provinces, to support an increase to the CPP. The chapter delegation that met with the Premier and signed the Call to Act [descriptions below] were selected because they come from the provinces that have yet to signify their support for CPP increase. Those provinces are needed for the province count and population figures in the CPP amending formula.
Ontario, PEI, Manitoba and Newfoundland-Labrador have signified their consent.
Any change to the CPP agreed upon on December 16th would not take affect for 3 years and it may be stipulated that any increase be phased in.
Coverage of the CARP Delegation meeting at Queen's Park:
News conference December 11, 2013: Premier Wynne, Finance Minster Sousa
Chapter chairs on need for CPP increase
Globe and Mail: http://m.theglobeandmail.com/news/politics/cpp-expansion-imperative-wynne-says-in-pension-push-at-ontario-legislature/article15888161/?service=mobile
CHCH News: http://www.chch.com/wynne-supports-cpp-enhancement/?utm_source=rss&utm_medium=rss&utm_campaign=wynne-supports-cpp-enhancement
CP24: http://www.cp24.com/news/advocates-see-support-for-cpp-expansion-growing-1.1584326
CARP Chapter Chair signatories
Lee Royko – Vice Chair of CARP Montreal; past City Councillor, Ville de Léry, Quebec; Principal of MarkNat Business Consulting
Bernice Rempel – Chair of CARP Edmonton, past Home Economist and Educator in the City of Leduc, Alberta
Bill VanGorder – Chair of CARP Halifax, Member of CARP's Board of Directors, and MRC Associates, the Atlantic distributors for Nordixx Pole Walking Canada; President of the Group of IX Advisory Committee on Seniors' Issues to the Provincial Government
Ramona Kaptyn – Chair of CARP White Rock-Surrey; Board Director, White Rock Surrey Chamber of Commerce
CARP is a national, non-partisan, non-profit organization committed to advocating for a New Vision of Aging for Canada, social change that will bring financial security, equitable access to health care and freedom from discrimination. CARP seeks to ensure that the marketplace serves the needs and expectations of our generation and provides value-added benefits, products and services to our members. Through our network of chapters across Canada, CARP is dedicated to building a sense of community and shared values among our members in support of CARP's mission.
For further information, please visit our website: www.carp.ca or contact:
Sarah Park   416.607.2471
Media Relations, Policy Researcher and Coordinator
[email protected]
Michael Nicin   416.607.2479
Director of Policy
[email protected]
Siobhan MacLean 416.607.2475
Media and Communications Coordinator
[email protected]