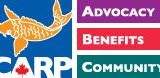 FOR IMMEDIATE RELEASE
December 16, 2013
Toronto, ON: CARP members will be disappointed with the Finance Ministers' failure to act on increasing the CPP. Finance ministers missed a once in a generation opportunity to improve retirement financial security for all Canadians. CARP members reject their reasons for inaction and have clearly stated that CPP increase is a ballot issue.     
 "This was their chance to improve retirement security for a generation and the Finance Ministers dropped the ball again. It's very disappointing to have the junior minister of finance again parrot the words of the small business lobby that has yet to demonstrate any concern for the retirement security of their own employees. It is clear that the federal government refused to accept the consensus of the provinces.  CARP members have already made it clear that it's a ballot issue for them even though they will not benefit themselves. This will be an election issue", said Susan Eng, VP, Advocacy for CARP.
"It would have been possible for them to give a conditional "yes" based on objectively measurable conditions but instead just provided a hard "no" despite the best advice of pensions experts, bank executives and even employers who do provide workplace pensions." added Eng.
Going into the meeting, all the Minsters agreed that Canadians were not saving enough for retirement, especially the middle income groups and that  CPP increase was an important part of the solution. Their disagreement was on timing.
In deciding to increase the CPP once certain conditions are met, conditions that are objectively measurable, Canada's Finance Ministers have set in motion the process to improve retirement security for a generation. This will not help today's retirees or even those facing retirement but will be of most use to today's younger generation of working Canadians.
The CPP amending formula requires the agreement of two-thirds of the provinces with two-thirds of the Canadian population plus the federal government. The decision to change the CPP is normally taken at the semi-annual meeting of the federal, territorial, provincial finance ministers – like the today's meeting in Meech Lake.
In the run up to decision day [December 16] on the CPP increase, CARP released its Open Call to Act signed by CARP Chapter Chairs from BC, Alberta, Quebec, and Nova Scotia – provinces which, up to today, had yet to signify their agreement to increase the CPP. Following a meeting at Queen's Park Wednesday, the Chapter Chairs returned to their home provinces and contacted their respective provincial finance ministers, bolstered by the support of the Ontario government leadership.
A CARP Chapter Chair delegation met with Ontario Premier Kathleen Wynne, Finance Minister Charles Sousa, and Minister for Seniors Mario Sergio at Queen's Park on December 11, 2013, urging Ontario's leaders, who are on side with a CPP increase, to apply pressure on their colleagues to come out of today's Finance Ministers' meeting with a firm agreement to increase the CPP.
PEI Finance Minister Wes Sheridan brought his CPP proposal to the CARP AGM and Chapter Congress on October 24, 2013 and got a rousing welcome from the chapter chairs attending from across the country.
In a recent CARP Poll™, 71% of CARP members say the government doesn't deserve power if CPP is not expanded.
In a Forum poll of all Canadians, the majority of Canadians want a CPP increase. Boomers (55 to 64) are especially likely to agree the twenty five percent target benefit is "too little" (60%)
Coverage of the CARP Delegation meeting at Queen's Park:
News conference December 11, 2013: Premier Wynne, Finance Minster Sousa
Chapter chairs on need for CPP increase
Globe and Mail: http://m.theglobeandmail.com/news/politics/cpp-expansion-imperative-wynne-says-in-pension-push-at-ontario-legislature/article15888161/?service=mobile
CHCH News: http://www.chch.com/wynne-supports-cpp-enhancement/?utm_source=rss&utm_medium=rss&utm_campaign=wynne-supports-cpp-enhancement
CP24: http://www.cp24.com/news/advocates-see-support-for-cpp-expansion-growing-1.1584326
For further information please contact:
Sarah Park   416.607.2471
Media Relations, Policy Researcher and Coordinator
[email protected]
Michael Nicin   416.607.2479
Director of Policy
[email protected]
Siobhan MacLean 416.607.2475
Media and Communications Coordinator
[email protected]