In the Fall of 2013, Carp Chapter 54 organized a Mobile Lecture Series of fun and interesting sessions to be held in 4 location across Haliburton County. This was designed as an outreach project for those who are not always able to participate in events located right in the larger towns of Minden and Haliburton.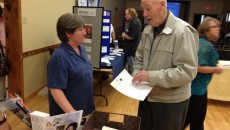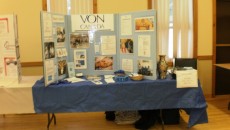 Topics ranged from informative sessions such as "Re-entering the Work Place", "Travel Talk", "Haliburton County Public Library 101: an Introduction to Your Library", and "Staying Safe on the Internet", but also fun and entertaining sessions such as making music at "Playing with Sound for all Ages", and relaxing and learning to "Play for the Health of It".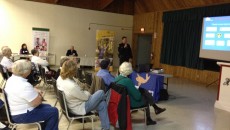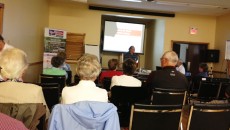 Each session featured 2 speakers as well as information booths set up by such local groups as Community Care, SIRCH, The Alzheimers Society, VON Canada, the Library and the OPP. Admission was free and included refreshments and door prizes. These events were made possible by a Community Outreach Project Grant funded by the New Horizons for Seniors Program.
The first session was held in Wilberforce, then just outside of Bancroft (in L'Amable), then in Kinmount and finally in Dorset. The plan was that each of the sessions would rotate around through the towns so that everyone got a chance to participate in all of the sessions. But, unfortunately, the first 4 sessions were not well attended and as such the project had to be cancelled. However, your Carp chapter has not given up on the idea completely and will evaluate what worked — and what didn't — and then work to plan and promote some interesting sessions in the future.  Members are always welcome to share their ideas … just give Bob a call at 705-457-3919 or email a us at [email protected]
Stay tuned to our website for future plans and we hope you will come out and join us.
We would also like to mention and thank the following who donated the door prizes:  $500 Travel Voucher from Via Rail; A One Year Membership & Zoomer Magazine Subscription from Sun Life ; A Framed Picture by local photographer (and CARP Director) Frank Thom; Gift Basket from the Haliburton Soap Factory; and a $30 Gift Certificate for Robinson's General Store, Dorset.