Information posted February 3, 2014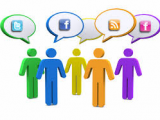 Would you like to know more about today's Social Media choices such as FaceBook, Twitter, Instagram and more? Then this workshop is for you.
Please click this link Social_Media_ETAG_Lifelong_Learning_Feb20 to view the poster for this workshop.
It will be presented by ETAG (Elder Technology Assistance Group) whose goal is to enhance the lives of those 55+ through technology, education and support.
You are invited to join them for an interactive workshop designed to inform curious adults 55+ Discussions and interactive demonstrations on topics such as Facebook, Twitter, Instagram, video chat, forums, blogs and more, including a Q&A session.
The workshop is FREE and it will be held on Thursday February 20th from 1.00pm to 4.00pm in the Georgetown Room at the Bay Area Learning Centre, 860 Harrington Court, Burlington.
Please RSVP: online www.volunteerhalton.ca/events; email [email protected] or call 905-632-1975