It has been brought to CARP's attention that a fraudulent letter (see here) has been circulated to the Jewish community and Holocaust survivors purporting to have found dormant Swiss accounts containing seventy-five million dollars belonging to Holocaust victims (United Jewish Affairs).
If you or you know someone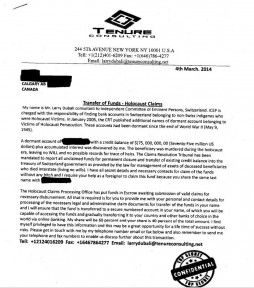 that could be at risk, please forward this alert to them and ensure they do not correspond with these fraudulent letters.
We do not want Holocaust survivors to be victims again.
Click here for Cautionary note from United Jewish Appeal.