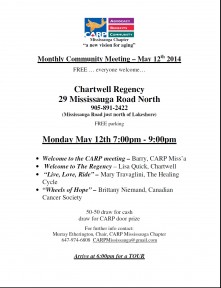 CARP Mississauga Chapter 35 holds monthly meetings every second Monday of the month throughout the year at various venues in Mississauga. The next CARP Mississauga Monthly Meeting will be held at Chartwell Regency at 29 Mississauga Road, North (Mississauga Road just North of Lakeshore) at 7:00 pm to 9:00 pm on Monday, May 12, 2014. Admission and parking are free.
The agenda for the CARP Mississauga Monthly Meeting on May 12 is as follows:
Welcome to the CARP meeting Barry, CARP Mississauga
Welcome to The Regency Lisa Quick, Chartwell
Live, Love, Ride Mary Travaglini, The Healing Cycle
Wheels of Hope Brittany Niemand, Canadian Cancer Society
In addition, there will be several exhibitors including Cruise Holidays | Luxury Travel Boutique, Hear More Canada and others. At the May meeting, Cruise Holidays | Luxury Travel Boutique will have Garima Shamsuka, a specialist on traveling to India as a special guest at its exhibit table.
Each week there are door prizes and a 5050 draw to support a local charity.
For further info contact:
Murray Etherington, Chair, CARP Mississauga Chapter
647-974-6808 [email protected]
Arrive at 6:00pm for a Tour of Chartwell Regency facilities.
Coffee, tea, refreshments provided by Chartwell Regency.