Our AGM was held June 19 in Governors Hall at the Fredericton Shannex Parkland Campus. More than 50 people attended the meeting and the presentation on Retirement Homes and Long Term Care. More on the presentation follows.
During the AGM portion of the evening, board member Dennis Taylor delivered the report on the years activity on behalf of chapter chair Suzanne Maltais. A copy of the report is on our Fredericton CARP Chapter #27 website. Click here to read the report. Dennis also presented the financial statement for the year. Of special note was the $500 donation to the chapter from Sun Life, a benefit arranged through the National CARP affiliation with Sun Life Canada. The financial statement can also be seen the chapter's website – click here.
The last portion of the formal AGM dealt with the election of the Chapter's new Board of Directors. Members are: David Cowperthwaite, Nancy DeCourville, Dianne Gallant, Eileen Malone, Suzanne Maltais, Alex Oldfield, Dennis Taylor, Mariet van Groenewoud, Tilly van den Bosch, and Wayne Walsh.
Following the AGM: Penny Pacey, Lifestyle Consultant, Shannex Parkland; Alesha Gaudet, Provincial Program Consultant for Long Term Care and Disability Supports, Department of Social Development, Government of New Brunswick; and Terri Dobson, Registered Social Worker with the Needs Assessor Unit, Department of Social Development, Government of New Brunswick, spoke.
Terri Dobson and Alesha Gaudet described the Department of Social Development's long-term care services for persons 65 and over that may be provided in your own home, a special care home, or a nursing home. Home support services can assist with daily activities such as personal care, housekeeping, and meal preparation. Day activity services provide caregiver relief, social support, and social/recreational activities in a small group setting. Special care homes provide supervision and assistance with daily living for people with limitations. Nursing homes are for people who are medically stable but who need full-time nursing care. Relief care can be provided to give support to families or caregivers in order to keep seniors in their own homes and delay placement in another facility.
They also described who will pay for the long-term care services and what is considered in determining if and when the government may provide financial assistance. One important question which was asked and which was on most attendees' minds: Must I sell my home when I enter a nursing or special care home? The answer was: No – the value of your house and other assets is not included in the calculation of needs assessment. It is your income that is of concern.
For more information see the Department of Social Development website.
Following Terri and Alesha's presentation, Penny Pacey described the Shannex experience, the differences in care and "pampering" that are available, and provided attendees with the "whiteboard" developed in conjunction with the Fredericton Police Force Senior's Advisory Committee, a useful tool by which seniors can have important information available for first responders in the event of an emergency. She also provided attendees with a checklist of what to look for when researching retirement living.
It was a great evening where members enjoyed refreshments and meeting other members of the Fredericton CARP Chapter. Following are some pictures of the evening provided by Susan Wright.
Fredericton CARP Chapter #27 Board Member Dennis Taylor conducting the AGM
Attentive CARP members participating in the 2014 AGM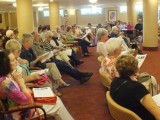 CARP members following the presentation of financial statements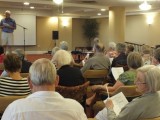 Alesha Gaudet, Provincial Program Consultant for Long Term Care and Disability Supports, Department of Social Development, assisting with the presentation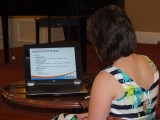 Terri Dobson, Registered Social Worker with the Needs Assessor Unit, Department of Social Development, speaking on the process for obtaining services and accessing care facilities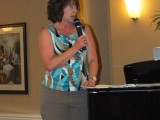 CARP members mingling and enjoying refreshments