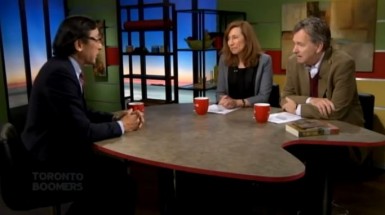 Toronto Boomers Show Co-Hosts Jim Deeks and Helen Burstyn interview CARP Mississauga Board Member and President of Cruise Holidays | Luxury Travel Boutique Peter M. Wong about cruise holidaysfor Boomers on Rogers TV Toronto Boomers Show. Watch the interview by clicking the image above or following the link here.
Jim has only been on one cruise in his life and he found that it was quite different from what he expected. His preconceived notion of cruising was based on the TV show, the Love Boat and he was pleasantly surprised that cruising has changed a lot over the past few decades.
Helen has never been on a cruise, but was interested in learning more about cruising, especially about the Eastern Mediterranean including the Greek Islands and Istanbul.
Peter explained that cruising has indeed changed over the past few decades. He also indicated that many Boomers are not aware of the changes and still think of cruising as their parents vacation.
Boomers are just beginning to learn about the great value and convenience of cruise holidays. Some of the many benefits of cruising is that while you can visit several destinations on a particular cruise, you only have to pack and unpack once. While you travel from one destination to another, you are either sleeping peacefully in your stateroom or you can relax onboard by the pool, in the many restaurants, or take in one of the many entertainment options. Dining is always excellent on cruise ships and there is always something for everyone's taste, so there are fewer decisions that have to be made at dinner time. Restaurants, pools, first class entertainment are just a short walk away.
In comparison, on a motor coach tour, you will have to pack and unpack, get up early each morning to maximize your touring time, spend hours of valuable vacation time on buses, trains or airplanes to travel from one destination to another. Every night you need to find a restaurant for dinner and then plan your own entertainment and then get to bed to get up the next morning to do it all over again. Clearly a cruise holiday is a much more relaxing vacation.
Boomers are just learning about how the cruise industry has changed over the years. There are more interesting and exotic destinations, including Africa, South America and Asia. These are destinations that suit cruise holidays perfectly.
The biggest change in the cruise industry is the growth of river cruising. Many of the worlds greatest cities and civilizations were built on the banks of major rivers. What better way to visit these cities than on a 180 passenger river cruise ship that travels from city to city while you are sleeping comfortably in your suite and that docks at the center of the city or town where many of the historic sites are just a short walk away. Or imagine watching the scenery go by while you soak in the pool on the upper deck or sip a glass of wine or a coffee from the alfresco restaurant.
One of the greatest benefits of cruising is that with the assistance of an experience travel agent, you can plan virtually everything in advance, so that when you arrive at the airport to depart on your vacation, you don't have to make any major decisions and you can just relax and enjoy the holiday. After all that is what vacations are about….relaxing and enjoying your time away from the stress and distractions of day to day life at home.
If you are interested in learning more about cruises, please feel free to contact Peter Wong or Lola Stoker at Cruise Holidays | Luxury Travel Boutique, 855-602-6566, 905-602-6566 or email [email protected] or [email protected] Or visit their website at http://luxurytravelboutique.cruiseholidays.com/ Cruise Holidays | Luxury Travel Boutique also has a Facebook, LinkedIn and Google+ page.
Cruise Holidays | Luxury Travel Boutique is a Mississauga, Etobicoke, Brampton, Toronto cruise travel agency providing cruise packages, luxury hotel, resort vacations and specialty travel serving groups and individuals in Canada and the USA. Cruise Holidays | Luxury Travel Boutique's mission is to provide first class service, expertise and value to clients who are looking for that special travel experience.