Information updated July 17, 2014
CARP Halton Chapter would like to saya BIG THANK YOU to everyone who came out and made ourAGM/Information Fairsuch a huge success. There were over 140 members and their friends in attendance and with over 25 exhibitors there truly was something for everyone. Our exhibitors were delighted with the response and as the following photos attest many of you took the time to visit their displays and to chat with them about the services they have to offer.
We would also like tothank the Chartwell Retirement Residence of Oakville who provided a delicious variety of good food. Their support and that of all of our exhibitors is very much appreciated.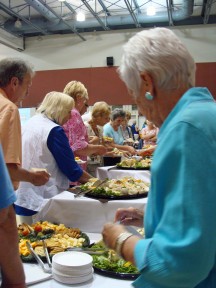 We were very pleased to welcome Martin Pangan who entertained us throughout the evening with his easy listening style of music. Toes were soon tapping and even a few of you could not resist theopportunity to get up and dance…..
Gary Carr, the popular Chair of Halton Region, got the formal part of the evening underway with a welcoming address and few briefwords on why Halton is such a great place to live and work.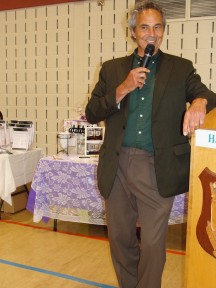 Tom Carrothers, seen dancing in the photo above, our Halton Chapter Chair gave an overview of our Chapter activities over the past year and brief look at the things we would like to accomplish in the year ahead. Tom stressed the need for more volunteers to help with our activities and for anyone who would like to help in whatever capacity they can to please get in touch with us. 905 319 7345 or at [email protected] Or better still join us at one of our regular monthly meetings at either Milton or Burlington.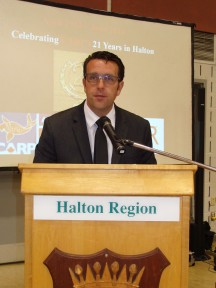 Tom was followed by Anthony Quinn, CARP Director, Community Development(Anthony isalso a Halton resident), who spoke about the importance of CARP Chapters in the Community. He alsodiscussedCARP's "Top 10" Policy movesour Government must make to support the new longevity reality:
Support for Caregivers
Retirement Income Security
Ending Elder Abuse
Patient-centred Health Care
Home Care
Older Workers
Age-Friendly Cities
Investor Protection
End of Life Care
Universal Pharmacare
It was then on to our featured speaker for the evening, Christina Gallimore, Senior Policy Advisor to Sheldon Wolfson, Commissioner of Social and Community Services in Halton.This department works proactively with the community to provide residents with the social support services they need.Christinaspoke about the growing needs for seniors servicesand what is required to meet theserequirements inHalton.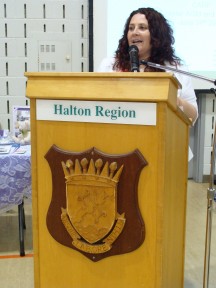 In addition to a very informative presentation Christina also provide many key booklets that are available to Halton residents that provide invaluable information on how and where to access assistance across the region.
Christina also invited Halton residentsto provide input to the Halton Older Adult Plan.
"What is your best advice for the Region as we plan for older adults in Halton"
If you did not take the opportunity to provided input at our meeting you still can by contacting Halton Region directly. You can do this by sending an email to [email protected]
An altogether excellent evening came to aclose with our 50/50 draw. Our winner, seen below with Chapter volunteer Hugh Cass and Anthony Quinn, was Mary Cragg whotook home$207. We would like to thank everyonewho supportedthis draw.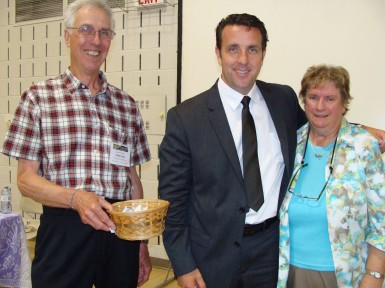 Many of our exhibitors also had table ballots and will be contacting the following winners directly.
| | | |
| --- | --- | --- |
| Company | Prize | Winner |
| Burlington Memorial Gardens | Gift Basket | Judy Walker |
| Burlington Orthotics | Orthopedic Shoes – $200 value | Patricia Hamlett |
| Canadian Christian Tours | Bottle of wine, 2 wine glasses, napkins, serving tray | Jane Dewhurst |
| Chartwell Oakville Retirement Residence | Tassimo Coffee Maker plus accessories | Bob Reimer |
| GTA Home Health Care | Nordixx Walking Poles, fanny pack and pedometer | Linda Walsh |
| deGraaf Financial Strategies | Garmin GPS | Mrs. T. Perekh |
| Hear More Canada Inc. | $100 Gift Card | Jane Dewhurst |
| Home Instead Senior Care | Gift box set of Taylor Fladgate Port & 2 port glasses | Shirley McConnell |
| Lioness Creations Floral Design | Fresh Flower Arrangement | Lorna |
| Listen Up Canada | Clarity amplified telephone | Mrs. T. Perekh |
| McLennan Group Insurance Inc. | 2 $10 Tim Horton Gift Cards taped under 2 chairs | Names not taken |
| Royal Botanical Gardens | RBG Family-Dual Membership | Barbara Neily |
| Shoppers Home Health Care, Burlington | Obus Shiatsu Foot Massager | Janice Baker |
| Silver Sherpa | Gift Basket | Davina Burns |
| Solutions for Aging | Gift Basket | Alma Rutledge |
| Sun Life Financial | $100. gift certificate for The Keg | Simone Ivan |