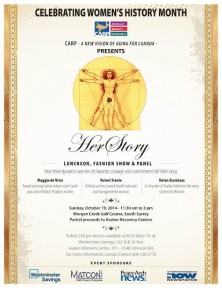 Please join us as we celebrate Women's History month in October!
Your CARP chapter presents HerStory with three dynamic women presenting their compelling stories of resilience over adversity:
Helen Burnham, co-founder of Avalon Addiction Recovery Centres for Women
Velvet Steele, a social activist and transgendered woman
Maggie de Vries, author whose sister was one of Robert Pickton's victims.
There will be a lunch and a fashion show.
Sunday, October 19th, 2014 at Morgan Creek Golf Course.
11:30 to 2:30
Tickets in advance $50 available at Westminster Savings on 152nd and 16th.
Partial proceeds will be donated to Avalon Recovery Centre in White Rock.
Call Denice at 604-538-5778 for more information.
Tickets will sell out so hurry…don't miss out on this fabulous event!