Information posted September 18, 2014
Jail-a-Thon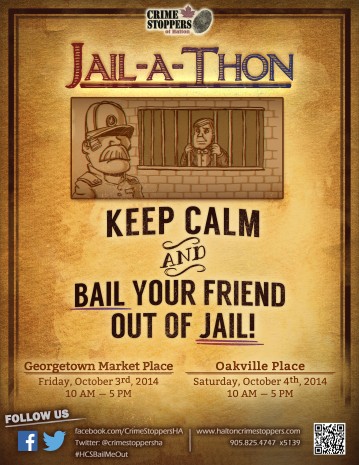 Crime Stoppers of Halton will be hosting a fundraising Jail-A-Thon. This is a fun event that has been used successfully by Crime Stoppers programs across North America to raise money necessary to operate a tip line and pay rewards for information that helps solve real crime.
From 10 a.m. to 5 p.m. both Friday, October 3rd at Georgetown Market Place and Saturday, October 4th at Oakville Place, Halton community members will volunteer to spend time in a makeshift jail to help Crime Stoppers raise money. Local politicians, high school staff members, and local business leaders will be required to raise bail money to get out of jail. All of the bail money raised will go to support the local Crime Stoppers program.
Key-a-Thon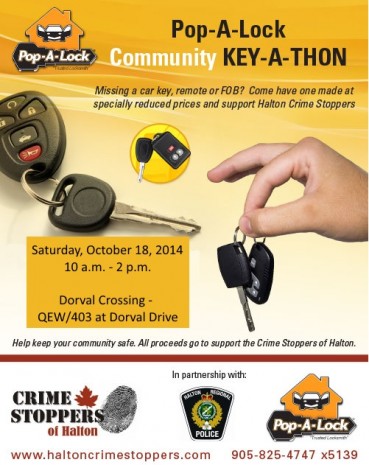 For those of you who are missing a car key, a remote, or a FOB, you will be able to get one made at specially reduced prices at the next Key-A-Thon. Join Pop-A-Lock and Crime Stoppers of Halton on Saturday, October 18th between 10 a.m. and 2 p.m. at Dorval Crossing in Oakville for the Community Key-A-Thon fundraiser. All of the proceeds raised at this unique event will be donated to the Crime Stoppers of Halton program.
Shred-it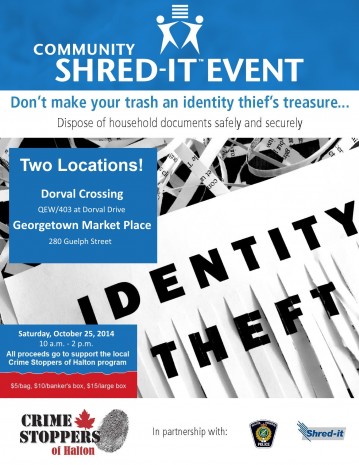 Identity theft costs Canadians more than $10 billion each year. Safely recycle your old documents to prevent them from falling into the wrong hands.
Crime Stoppers of Halton, in partnership with Shred-it, are happy to offer the next Community Shred-it event! On Saturday, October 25, 2014, between 10 a.m. and 2 p.m., you will have the opportunity to dispose of household documents safely and securely.