CARP celebrates Womens History Month on October 19 with HerStory at Morgan Creek Golf Club from 11:30 am to 3 pm.
Presenting women of conviction and courage:
– Helen Burnham, co-founder of Avalon Recovery Centres for Women;
– author Maggie de Vries, sister of one of Robert Picktons victims;
– Velvet Steele, political activist and transgendered woman.
Includes luncheon; draw for painting or earrings by Jose & Co. Custom Jewellers or 2 nights at Sparkling Hills Resort in Vernon; plus door prizes and fashion show featuring clothing trends and hairstyles from local merchants Suzannes & Jennys, Fashion on the Edge, Sin 7 Hair Salon, Sight for Sore Eyes Optical and Art to Wear by Vancouver designer Marianne Greaves.
Partial proceeds to Avalon Recovery Society in White Rock.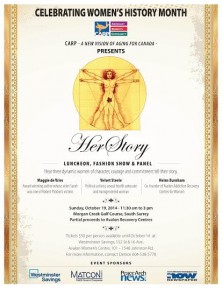 Tickets available at Westminster Savings or call Denice at 604-538-5778. No tickets at the door. Men welcome!