November 4, 2014 
Each year at this time CARP National hosts an AGM and Conference at the Zoomer Complex in Liberty Village, Toronto, at which time they bring in chapter chairs from over 60 chapters all across Canada for 2 1/2 days of workshops, meetings and a bit of fellowship winding up with the Zoomer Show at the Direct Energy Centre all day Saturday.  This show is a Consumer Show directed at CARP members featuring products and services that suit their needs and interests.  It also has a huge stage offering entertainment and shows of interest throughout the day.  The general public is welcome as well, but CARP members are admitted free of charge.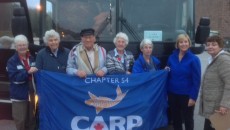 For this year's event, CARP Chapter 54 chartered a Hammond Coach to bring 43 local residents to the event.  The cost of the bus was subsidized courtesy of a grant obtained from the Ontario Seniors Community Grant Program and participants were treated to not only the Zoomer Show, but followed by a dinner and exciting performance  at the Famous People Players Theater before returning home exhausted at about 1 a.m.
A major event during the conference with the presence of none other than Liberal leader Justin Trudeau as guest speaker.  It is important to point out that CARP is a non-partisan organization and that leaders of all political parties are always invited.  Although the leaders of the NDP and now, the Liberal parties have responded, the Conservatives have not!  Mr. Trudeau impressed the delegates with his knowledge and understanding of the CARP position documents on many issues and supported each one enthusiastically.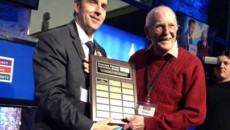 Another event of local interest was a surprise presentation made to Haliburton Highlands CARP chapter chairman, Bob Stinson of the Darlene Demkey Memorial Award for Commitment to New Chapter Growth and Development in Local Communities. This is the first time this award has been presented, so Haliburton is the first chapter to receive this honour.  The board of directors are very proud of this accomplishment and hope their membership share in their pride.