Come and join us as we introduce you to two exciting presentations:
Changes to the Wills , Estate & Succession Act of BC.
Tetra Society of North America presents solutions for people with diminishing mobility.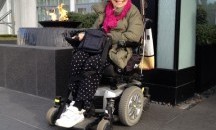 Nicole Russell is a partner with Graves Russell Barristers & Solicitors, specializing in Wills and Estates.  Nicole will be providing information on the new changes to the Wills, Estate & Succession Act in BC and how it might affect each one of us.
The second speaker is Marina Rometsch of the Tetra Society of North America.  This group was founded by Sam Sullivan, ex-Mayor of Vancouver.  The Tetra Society helps find unique solutions for seniors and others with diminishing mobility who wish to remain living in their homes.   Q&A session follows.
THURSDAY,  FEBRUARY 5th from 1:00 PM – 3:00 PM
Minoru Seniors Centre
7660 Minoru Gate Richmond, B.C. V6Y 1R9