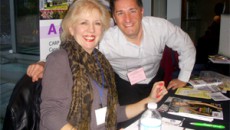 CARP Victoria Board Members
On Saturday March 28th, April Lewis, the Representative for CARP BC, will be here to give a seminar on raising funds for our Chapter.
The Board will meet at Ross Place in the Country Kitchen at 12:00 noon for a light lunch, April will then give her presentation.  Charlene has booked this event until 3:00 p.m. , however, we could break earlier or go for a bit later, if necessary.
It is important that all Board Members attend if at all possible, and an RSVP would be appreciated to Charlene at [email protected]