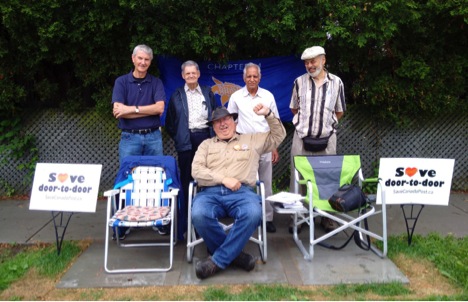 CARP has been involved in the fight to save home mail delivery from the very beginning. Yet press releases and meetings with Canada Post CEO Deepak Chopra seem to have fallen on deaf ears… While Canadians want to save door-to-door delivery the decision makers are turning a blind eye to the public's desires. In the past month, CARP has turned up the heat on politicians and Canada Post executives in hopes that something might yet be done. This article touches on some of the many press releases, targeted letters, and membership outreach campaigns CARP has issued. Of particular significance is the brave act of defiance that one man has undertaken, Mr. Henry Evans-Tenbrinke, retired health-care worker, has taken a stand (or rather, a sit)  in hopes of making his voice heard. CARP was there to support Mr. Evans-Tenbrinke's protest. CARP salutes his courage!
For over three weeks, Henry Evans-Tenbrinke a retired health-care worker sat in protest against Canada Post's plan to cut door-to-door mail service, guarding his neighbourhood in Hamilton from being overtaken by community mail boxes, while attracting CARP and widespread community support and media attention.
CARP sent a letter to thank and support Mr. Evans Tenbrinke on behalf of CARP members in Hamilton and across Canada for the dedication and personal sacrifice he has made to support a cause that is important to many Canadians.
The Hamilton CARP Chapter is supporting the efforts of Mr. Evans-Tenbrinke and his sit-in protest on the patch of concrete where Canada Post intends to place a "community mail box" and end door to door delivery of mail in his neighbourhood.
Hamilton CARP Chapter Chair, Doug Stone, and CARP's Director of Community Development, Anthony Quinn, hand delivered CARP's letter of support and joined Mr. Evans-Tenbrinke and a few of his supporters for a few hours of solidarity on a Monday morning in June. Mr. Evans-Tenbrinke reported that only a few minutes before CARP's arrival, the contractors working on behalf of Canada Post arrived to install the mail boxes, but left soon after Mr. Evans-Tenbrinke refused to move.
Mr. Evans-Tenbrinke is encouraging other retirees across Canada to stand up to Canada Post and do what they can to let Canada Post know that door-to-door mail delivery is an essential service for many, particularly in a cold weather country with an aging population and for people with mobility challenges. CARP members across Canada share with Mr. Evans-Tenbrinke concerns that the changes will negatively affect the well-being and independence of older Canadians and people with disabilities and mobility challenges.
CARP has opposed Canada Post's plan to cut home mail delivery from the start and monitored the changes closely. After much public and media outcry around the initial announcement about home delivery, CARP met with Canada Post CEO Deepak Chopra to share concerns over the negative impact on individuals. Mr. Chopra suggested that extra mail box key would be given to family members and caregivers if mobility and safety is an issue. CARP holds that this is not the solution Canadians want. A spare key for caregivers or friends would increase the potential for financial abuse and ignores the fact that people want to maintain their independence.
Canada Post's proposal to offer exemptions to people who reveal their medical history is also not a solution. CARP emphasized that the door-to-door mail delivery is essential for many Canadians and can provide added value especially to home bound individuals, to whom the letter carrier may be the only point of contact for some days.
Many municipalities are coming forward against the plans to stop home mail delivery and install community mail boxes. The city of Hamilton has been at the forefront of a fight against Canada Post's decision to cut door-to-door mail service and continues to argue for greater local input in determining the site of each community mailbox. Montreal area mayors are also voicing resident's concerns and pushing for a moratorium on the community mailbox plan.
In mid-June, CARP sent an open letter to all GTA Mayors, calling them to act on the concerns expressed by their citizens about the elimination of home mail delivery and the erection of community mail boxes instead. CARP will continue to push for the reversal of the Canada Post decision and to support Mr. Evans-Tenbrinke and likeminded Canadians guarding the best interests of their communities in accessing public services.
For more information on Henry Evans-Tenbrinke's protest, visit www.savecanadapost.ca, and if you'd like to join CARP's work to oppose community mailboxes in your neighborhood, please contact Anthony Quinn [email protected]
Read more on CARP's advocacy initiatives to stop Canada Post's plans to cut home mail delivery: