Summer News!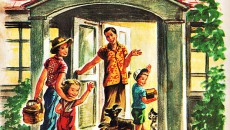 ThirdQuarter is a national non-profit organization, specializing in recruitment services for mature Canadian job seekers aged 45 and up, who are in the "third quarter" of their careers.
JOB SEEKERS' CAFE IN VANCOUVER
July 24, 2015, July 25, 2015
Join us for a free and confidential one-on-one consultation about your job journey, your resume and how we can work together. Please register to avoid disappointment. www.thirdquarter.ca
Please bring your resume with you if you have one. You can email us for more information:
Sessions are 30 minutes in duration.
Location:
Library Square Conference Centre
Vancouver Public Library
350 West Georgia |  Level 7
Vancouver, BC
Maturity, skills and experience are assets in today's workplace. We match the skills required for available positions with the qualifications of experienced applicants. Our motto is to "Hire Experience."
CARP in the News: Ottawa seeks public input
CARP in the News: Ottawa seeks public input on voluntary CPP expansion.
Below is an article published by the Globe and Mail on July 13, 2015, speaking about federal government officially launching consultations on Canada Pension Plan reform, and in launching the consultations, Finance Minister Joe Oliver made it clear that the focus is limited to voluntary options for Canadians to save more through the CPP. .
Canadians are invited to share their input by e-mail before September 10th. CARP is mentioned in the article speaking about overwhelming support for CPP expansion expressed by members in CARP polls. Click here to read this article and other related content.
www.theglobeandmail.com/news/politics/ottawa-seeks-public-input-on-voluntary-cpp-expansion/article25486993/