The Future of Pharmacy – When was the Last Time You Got an Hour with a Health Professional?
Thursday, August 6th – 1:00 to 3:00 p.m.
Bring your friends out to the Pioneer Church at the South Arm United Church, 11051 No. 3 Road & Steveston Highway in Richmond
The Futu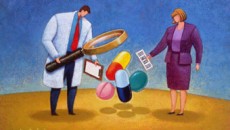 re of Pharmacy is at UBC!  During this highly informative presentation, you will hear first-hand about the changes going on within the   world of Pharmacy, the innovative Pharmicists Clinic at UBC and how it can benefit you.
Barbara Gobis, who some of you may remember from the S.H.A.R.E. event in June, is the Director of the UBC Pharmacists Clinic.  She has been a practicing Pharmacist for over 25 years and will be assisted by Brendan Woods, a third-year Pharmacy student.
Come and find out all about the future of Pharmacy!