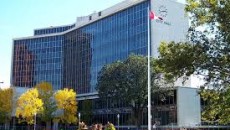 You, your friends and family are invited to attend the flag raising ceremony when Mayor Fred Eisenberger hoists the flag in recognition for the enormous contributions seniors have made to making Canada what it is today.
Come to council chambers in City Hall to hear speakers talk about issues important to you.
Date:  October 1, 2015
Time:  11 a.m. – 3 p.m.
Location:  Hamilton City Hall – 71 Main St. West
Admission:  FREE!!
Free refreshments and entertainment!
Thank you to CURC for partnering with CARP to honour seniors in our community.