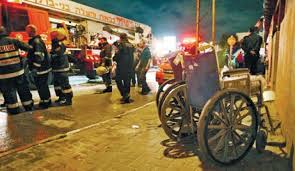 Editor's Note: On July 31st, the Calgary Herald published an excellent piece of investigative journalism that uncovered the Province has been dragging its feet on fire safety. The Herald obtained internal documents through Freedom of Information requests and uncovered a potential motive – internal Municipal Affairs memos suggest that it would cost $250 million to install sprinklers in all facilities built before 1990 (when building codes did not require sprinkler systems in nursing homes). Documents also revealed four significant fire events in last three years. Critics that charge that Government has not explored the cheaper ways to promote fire safety and that a fund should be set up to help nursing home owners pay for the renovations. Other provinces have made this move and Albertan's deserve the same care. This article features a fantastic interactive map put together by the Herald that contains very valuable data. We recommend using their map to see which seniors facilities have fire suppression sprinklers installed. You can search by name or by clicking on an icon on the map. Excerpt and full story below:
More than six months after a fatal fire swept through a Quebec seniors lodge killing 32 residents, the Alberta government has yet to reveal a plan to protect thousands of vulnerable Albertan's in seniors homes.
Alberta Municipal Affairs estimates as many as 455 of the province's 657 seniors facilities are not equipped with sprinkler systems and that 43 of 148 seniors lodges — many of them in small communities served by volunteer fire departments — have only one staff member working overnight.
Only 53 of the 148 lodges have sprinklers installed throughout the entire lodge; 67 have sprinklers in some common areas, kitchens or storage areas, the ministry says.