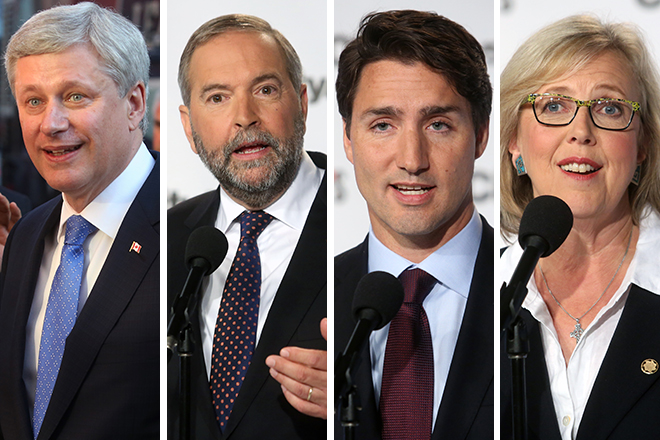 In the lead-up to this Monday's election, CARP ensured politicians paid close attention to the needs of seniors, calling for meaningful change to improve retirement security, increase access to health care and home care, lower the cost of prescription drugs, and support caregivers, among a number of other issues. As the election wore on, and seniors' issues became increasingly prominent in national discussions, CARP became a go-to expert for primetime national news broadcasts, major newspapers, blogs, and regional media outlets. Party leaders responded directly to CARP's advocacy issues, and appealed directly to CARP members; everybody wanted CARP's stamp of approval. And on October 19, older voters acted decisively, turning out in droves to influence the results of the election.
All Parties Pursued Older Voters
CARP invited all party leaders to our national headquarters to speak directly to CARP members about their election commitments on CARP's priority issues. Justin Trudeau, who would go on to lead the Liberal Party to victory at the polls, accepted CARP's invitation. He held a town hall event at CARP's headquarters and announced, before an audience of CARP members, his commitment to boost income supports for low-income seniors, enhance the CPP, and provide additional support for caregivers.
NDP leader Thomas Mulcair also ran on a platform which included a broad range of supports for seniors. During an announcement in Vancouver, Mulcair pledged $1.8 billion to improve seniors' health care services, expand home care for 41,000 seniors, create 5,000 new nursing beds, and widen access to end-of-life care. Mulcair additionally pledged $400 million to increase yearly Guaranteed Income Supplement (GIS) benefits, and promised to convene a first ministers' meeting during his first 100 days in office to discuss CPP expansion. And perhaps most notably, Mulcair pledged an investment of $2.6 billion per year to fund universal drug coverage on an ongoing basis.
Stephen Harper's appeals to the senior vote included a new $2,000 Single Seniors Tax Credit, which, according to the Conservative Party, would have aided nearly 1.6 million seniors who receive pension income. Prior to the election, the Conservative government changed its long standing refusal to consider CPP enhancement and announced their intent to explore means by which individuals could make voluntary CPP contributions. The party was also exploring methods of reducing drug costs throughout Canada, and planned to negotiate with provinces to form the Pan-Canadian Pharmaceutical Alliance and purchase drugs in bulk. Furthermore, the Conservatives were the only major party to support higher maximum annual deposits for Tax-Free Savings Account. The Conservatives also responded to CARP advocacy before the election when they reduced mandatory minimum withdrawal amounts for Registered Retirement Income Funds (RRIFs).
In the end, voters found Trudeau's campaign and promises most persuasive, and elected the Liberal Party to form a majority government. Days prior to the election, a CARP Poll™ of nearly 13,000 members, 40% of whom had already voted, accurately predicted that the Liberal Party would win a majority of the popular vote to form government.
Ensuring the New Government Keeps Its Promises
The Liberals are now well-positioned with a majority government to act on the comprehensive basket of promises made to older voters throughout Trudeau's campaign. Some of the specific promises Trudeau introduced before an audience of CARP members include:
Reversing the eligibility age of Old Age Security (OAS) to 65
Boosting the Guaranteed Income Supplement (GIS) by 10% to provide almost $1000/year more per  GIS recipient – aimed especially at helping low-income seniors who live alone;
Setting a new seniors' price index to ensure that OAS and GIS benefits keep up with rising costs;
Enhancing the CPP;
Extending the flexibility of compassionate care leave for caregivers.
Now, CARP will work to ensure Prime Minister-Elect Trudeau keeps these promises. CARP has long called for a comprehensive approach to ending poverty in old age, increasing the CPP, restoring the OAS eligibility age to 65, increasing the GIS, and introducing an equivalent to OAS spousal allowance for single older Canadians, a quarter of whom live in poverty.
With a majority government and promises to work cooperatively with provincial governments and opposition parties, Trudeau has been given a strong mandate with which to fulfill his promises to the electorate. CARP members will expect the new Prime Minister to uphold his vision for Canada as set out during the election campaign.